You can manage your subscription through the control panel by going to the subscription section. At registration time, your subscription will be put on the Basic plan, and you can change your plan anytime by clicking on the subscription button at the bottom of the plan card. You can also unsubscribe anytime except the first month.
Unsubscriptions are disabled for the first month.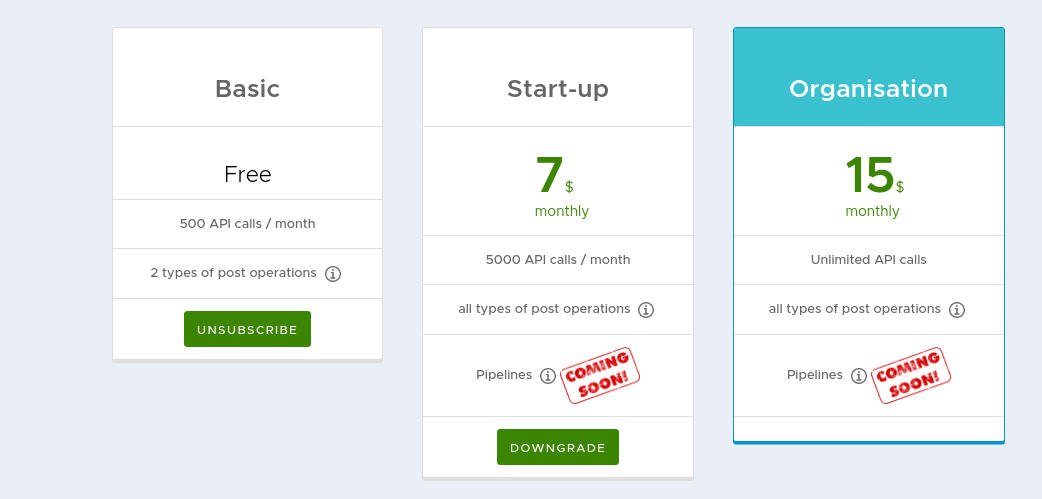 Rates calculation
When you decide on subscribing/unsubscribing, the rates will be calculated based on the number of days remaining in the month. The following rules apply:
If you move from a free plan to a paying plan and back again in the same day, at least one day will be billed.
If you move from a paying plan to another and back again in the same day, you will be charged only for the current plan.
All the calculations will be displayed before continuing with the payment:
If you see anything wrong with our calculations, please let us know.
Plans
There 3 monthly plans:
Basic: free plan with limitations on API requests number, post operations types and endpoints
Start-up: paying plan with limitations on API requests number
Organisation: paying plan with no limitations
Payments
imager200 relies on Braintree, a Paypal service, for processing payments. Braintree meets the highest industry standard in terms of security and fraud protection.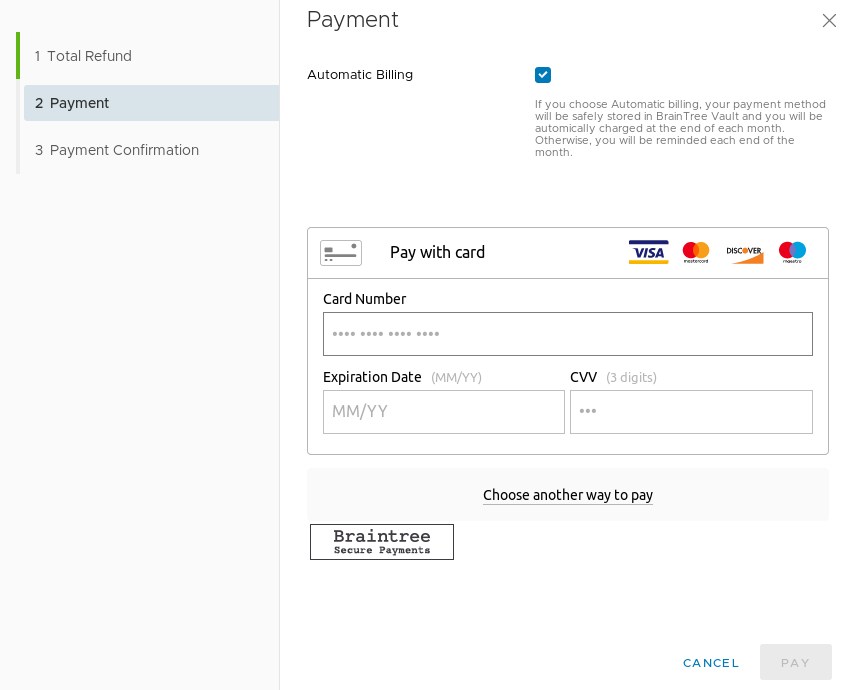 Automatic vs Manual billing
When subscribing, you can either choose automatic or manual billing.
With automatic billing, your payment method will be saved in Braintree Vault and will be charged automatically at the start of each billing period.
With manual billing, you will be reminded by e-mail at the begining of each month to pay your subscription.
With manual billing, you have up to the 3rd of each month to pay for a past due subscription, after which your subscription you will be put back on the Basic plan
Subscription states
Your imager200 subscription can be:
Active if the payments are up to date and no API requests limit have been exceeded
Pending if you have exceeded the maximum allowed number of API requests
Past due if you have not yet paid your monthly subscription